Leading online betting platform SunBet, part of the Sun International has announced the signing of footballing superstar and world-renowned pundit Michael Owen as their brand ambassador.
Owen has signed an exclusive deal for more than two football seasons from June 2023 and his addition to the SunBet offering forms part of the betting platform's 13thbirthday which signifies the start of a new chapter for the business.
As part of his role as brand ambassador, Owen will provide:
Score predictions
Expert tips and insights
Weekly football betting odds
SunBet, in partnership with Michael Owen, will also run a number of competitions whereby entrants can win prizes, including signed memorabilia. SunBet will reveal further details of what Owen will bring sports fans in South Africa as brand ambassador in due course.
Michael Owen background
Owen burst onto the football scene with English giants Liverpool in 1997 as a 17-year-old, becoming the club's youngest player as well as goal scorer. He went on to score 118 goals in 216 appearances in the Premier League for Liverpool.
In a footballing career that took him from Liverpool to bitter rivals Manchester United and Newcastle United, via Spanish heavyweights Real Madrid, Owen scored over 220 goals in nearly 500 appearances at the club level.
He led Liverpool to the FA Cup, UEFA Cup, and League Cup treble in 2001 and won the prestigious Ballon d'Or in the same year.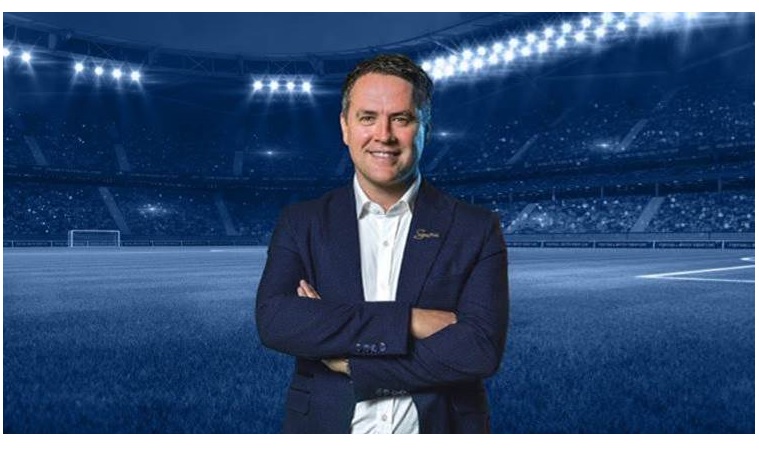 Image: Michael Owen Brand Ambassador SunBet 
His exploits at international level were equally impressive – 40 goals in 89 international appearances for England. He was also, at the time, the youngest player to represent and score for England.
Since retirement in 2013, Owen has successfully transitioned into a globally respected football pundit and also racehorse owner and trainer.
SunBet comment
SunBet CEO, Simon Gregory said: "We are absolutely delighted to have Michael on board as a brand ambassador to provide and share his deep insights of the game of football with SunBet customers.
"Anyone who loves the English Premier League and football in general will appreciate his deep knowledge of the game, coupled with his articulate and insightful commentary and analysis which have made him one of the most sought-after football media personalities in the world.

"As a former player at the highest level, he knows exactly what goes through the minds of players and managers at key points in a match and during the course of an arduous season and brings this to bear in his commentary and analysis," Gregory added.

"Michael is certainly one of the world's leading football pundits in Michael and we look forward to him sharing his thoughts and insights with the SunBet family."

Michael Owen comment

Owen said: "I have come to know South Africa very well over the years in my various roles as a football analyst and I know the deep and incredible passion there is for football in this country. From the PSL, to the Premier League and I cannot wait to share my knowledge and passion with SunBet fans.

"I am thrilled to be joining one of South Africa's leading brands and one which shares my passion and enthusiasm for football, horse racing and other pursuits," he added.

"Score predictions are never easy, particularly when it comes to the English Premier League which is the most competitive and unpredictable of all the major soccer leagues – but I will do my best to provide insights which I hope will aid punters when placing bets."
Benefit to SunBet customers
Gregory said Owen could also be relied on to give periodic and fascinating insights into the horseracing industry, being a long-standing and well-respected racehorse owner and breeder as part of his extensive range of interests.
"We firmly believe that SunBet punters will derive tremendous value from our partnership with Michael Owen," Gregory added.
SunBet background
In 13 short years, SunBet has grown from a platform that began with the main sporting codes of football, rugby, cricket, golf, horseracing major events such as world cups and more.
The SunBet platform has further evolved into offering fixed odd bets on the outcome of slots and tables games such as roulette, blackjack and baccarat.
Gregory said over the course of little more than a decade, the user journey has been refined to accommodate the varied needs of online customers. This is coupled to the benefits SunBet customers derive from having access to the Sun International group loyalty programme, Sun MVG.
"SunBet has grown exponentially in the last few years as the addition of slots and live table games has led to a much wider audience for online betting" Gregory added.
In 2022, SunBet paid out well over R1-billion last year as online entertainment continues to show impressive growth. "We are predicting another great year for SunBet as our customer numbers are up and we are predicting record revenues for the 2023 financial year."
"However, without a doubt, football remains our biggest ticket item and SunBet is able to provide soccer betting offerings with literally thousands of markets and competitive odds."
SunBet strives to provide a safe and secure online betting experience and is part of one of the largest trusted and reputable gaming brands in South Africa. SunBet is a subsidiary of Sun International Limited which is a listed entity on the JSE, furthermore governed and regulated by the Western Cape Racing and Gambling Board and is committed to safe and responsible gambling practices.
Source: Read Full Article